Interspecies Cannibalism (201703)
---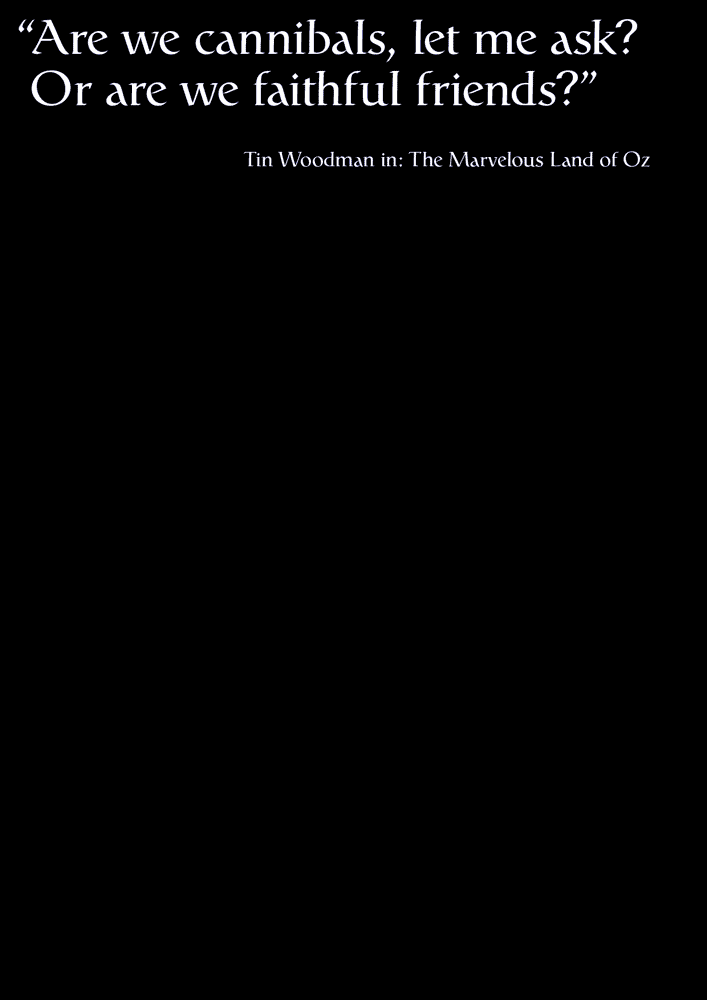 ︎Fig. 1
Teil der Posterserie zur Lecture.
Bild:
Pieter Aertsen
,
A Meat Stall with the Holy Family Giving Alms, 1551
The term
cannibalism
is mostly used to describe cases of intra-species cannibalism or even mere anthropophagy. Because of this one can suppose that there is both an intra-species-cannibalism and the feeding of one species on the other, called
inter-species cannibalism
. The constructed "other" is, in some aspects akin. Which aspects are relevant? Is every kind of cannibalism morally reprehensible? The "critique of inter-species cannibalism" is a broad intersectional exploration and examination of the term
cannibalism
and its implications in our multispecies world.
Documentation (in German)
Das Projekt startete mit der Verschriftlichung meiner Gedanken zum Kannibalismus-Begriff, die sich beziehen auf die Frage nach der Moral des konsensuellen Kannibalismus, aber auch auf die Frage nach der Problematik des Kannibalismusbegriffs als moralisierendes und herabsetzendes (Barbarians and the Civilized) kolonialistisches Erbe.
Im weiteren Verlauf bildete sich ein Vortrag (gehalten zum Rundgang der Kunsthochschule für Medien Köln, 28. Juli 2017) heraus, der einen Zwischenstand des Projekts markierte.
Es fand weiters ein Experiment, eine künstlerisch-forschende Performance statt.
Videodokumentation
︎
---
Project details
Supervisors: Prof. Dr. Lilian Haberer, Prof. Ute Hörner

This project was my pre-diploma project at the Academy of Media Arts Cologne, October 10th, 2017.
Vordiplom an der Kunsthochschule für Medien Köln am 10.10.2017


---
Appearances
Lecture, Annual Exhibition 2017, Overstolzenhaus, Academy of Media Arts Cologne. July 28th 2017.
---
Special thanks to Max Höller, Yue Wang, Sophia Gamboa, Nan Li